High Tech MULTIFUNCTIONAL GUN OIL
MADE FOR SHOOTERS. BY SHOOTERS.

GUNSHIELD™ BFG GUN OIL is a special combination of high-quality oils and other additives. It is primarily designed for lubrication, basic maintenance, and protection of all weapon metal parts.
GUNSHIELD™ BFG GUN OIL has a highly degreasing, cleaning ability, and potent capillarity – a perfect solution for all the hard-to-reach places such as trigger mechanisms, bolt carrier parts or sliders.
GUNSHIELD™ BFG GUN OIL dissolves corrosion and rust. Creates an oil microlayer and chemical anticorrosive protection with long term effectivity as well as minimizes friction.
The solution becomes partly dry over time, with increased viscosity upon application that prevents any runoff from the treated parts – this ensures the creation of a thin, protective layer on the materials' surface. It does not disrupt gun finish, coating or damage plastic parts. The product does not contain Teflon or silicone.
The product is mainly used for lubrication and protection of weapons systems, handguns, knives, hand tools and industrial machinery, etc.
It is perfect for cleaning of any moving parts or rolling components, ball and roll bearings or stiff joints release – especially threaded – and for their protection against corrosion and rust. For all models and types of mechanical joints with movement.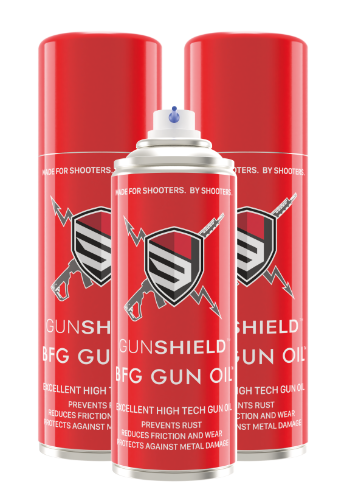 APPLICATION
ADVANTAGES
DISCLAIMER
APPLICATION
Multifunctional oil GUNSHIELD™ BFG GUN OIL can be applied with brushing, spreading with cloth, spraying and direct immersion, etc.
Solution can be also mixed with engine oils, grease, and other suitable preservatives.
ADVANTAGES
DISCLAIMER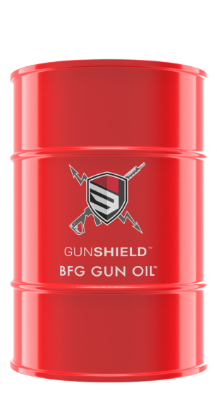 GUNSHIELD™ BFG
200 l BARREL
Wholesale packaging in 200 litres metal barrels.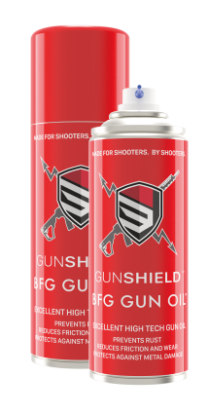 GUNSHIELD™ BFG
200 ml SPRAY
Basic and universal packaging in 200 ml pressure can with fine long nozzle allowing application in hard to reach spaces.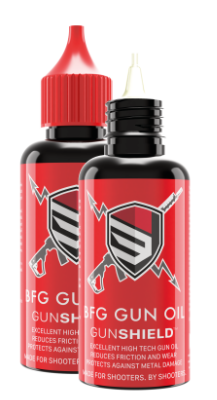 GUNSHIELD™ BFG
50 ml DROPPER
Small 50 ml package in plastic vessel with precise dropper for easy application on small surfaces and parts.