ONE SOLUTION FOR 3 STEPS OF GUNCARE
MADE BY SHOOTERS. FOR SHOOTERS.

GUNSHIELD™ CLP® is a new generation of cleaning, lubricating and preservative solution for complex gun maintenance. Fit for all types of firearms – sport firearms, pistols, and short guns, rimfire rifles, hunting and long-range rifles, automatic rifles, military weapons systems and all parts of weapon metal accessories.
Cleans perfectly.
Lubricates abundantly
Short and mid-term anticorrosive protection
For all types of firearms
Ensures functionality of all mechanisms of firearms
Water repellent
Repels dust and other particles, no greasy surface after drying
Tested and approved by professionals
In accord with military specifications (MIL-PRF-63460E)
Officially approved for use in the Army of Czech Republic and in the NATO
GUNSHIELD™ CLP® is a member of CLP (Clean, Lubricate, Preservative) product branch. This product connects all parts of weapons cleaning and maintenance into one single step. The cleaning process is rapid and highly effective.
The lubricating component of GUNSHIELD™ CLP® works on a unique principle – if inactive, the lubricating layer solidifies but in the moment of pressure change, or active friction (barrel recoil), becomes liquid and provides sufficient lubrication for all moving parts. The anticorrosive feature is based on unique inhibitors, not unlike in special single purpose conservating anticorrosive oils.
GUNSHIELD™ CLP® is fit for all types of metals (steel, alloys, non-ferrous metals), the product is also friendly for all other materials like plastic, rubber, or varnished wood.
With repeated use, all future cleaning and maintenance becomes much less complicated. GUNSHIELD™ CLP® makes maintenance easier and reduces the time for firearms cleaning.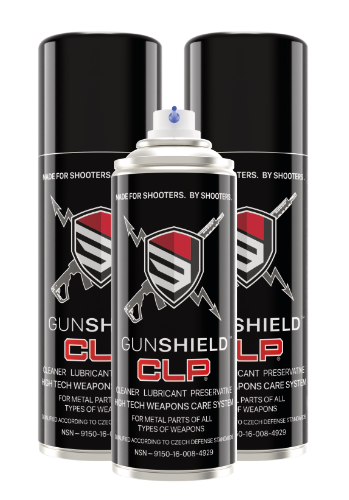 GUNSHIELD™ CLP® has successfully passed through Czech armed Forces tests and has been promoted as an official standard product for small arms protection and maintenance. All qualifications and approvement information are published on sites of bureau of Military standardization and quality control of Czech Republic, under the number C-VZ-1.1-6.3.
On the international field, in 2020, we have obtained, due to quality test results, a NATO stock number NSN-9150-16-008-4929.
PRODUCT DESCRIPTION
PRODUCT APPLICATION
ADVANTAGES
DISCLAIMER
PRODUCT DESCRIPTION
GUNSHIELD™ CLP® (Clean, Lubricate, Preservative) is lightly brown liquid with low viscosity. The product is a mixture of highly refined liquid hydrocarbons, anti-corrosive inhibitors, lubricants, and other additives.
GUNSHIELD™ CLP® is (new generation) a technologically advanced product designed for maintenance all of metal parts of firearms that provides the highest level of protection against wear, dirt, and humidity (salt water included).
GUNSHIELD™ CLP® dissolves residues of metal jacket from projectiles in the rifling, burned gun powder residues, other old preservatives, and lubricants.
New thixotropy technology provides maximal reduction of friction. Surface microlayer repels dirt, dust, and water. First shot (cold barrel shot) is affected minimally by use of GUNSHIELD™ CLP®.
Continual use of GUNSHIELD™ CLP® ensures easier subsequent maintenance and longevity of the treated materials.
GUNSHIELD™ CLP® becomes dry in two phases: During the initial phase, the product has a very low viscosity which helps to enter all the parts and effectively dissolves all residues and dirt on the weapon's surface.
In the second phase, the viscosity increases intensively and all the residues from grease, dirt and other remains are solvated (solvation) for easy removal by cloth or paper tissue.
GUNSHIELD™ CLP® has been developed under MIL-PRF-63460E specifications. The product is qualified and approved as a recommended product for maintenance and short-term conservation of military equipment and (technology) of Army of Czech Republic. Due to ČOS 999923 it is placed on the official list of materials used for maintenance and preservation, and our company is recognized as an official supplier of armed forces. All information is published on the website of the Bureau of defence standardization (Úřad pro obrannou standartizaci) under catalogue number CZV-1.1-6.3.
PRODUCT APPLICATION
ADVANTAGES
DISCLAIMER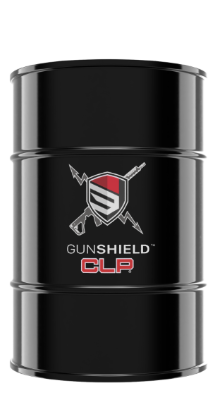 GUNSHIELD™ CLP®
200 l BARREL
Wholesale packaging in 200 litres metal barrels.​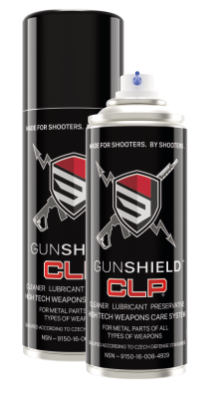 GUNSHIELD™ CLP®
200 ml SPRAY
Basic and universal packaging in 200 ml pressure can with fine long nozzle allowing application in hard to reach spaces.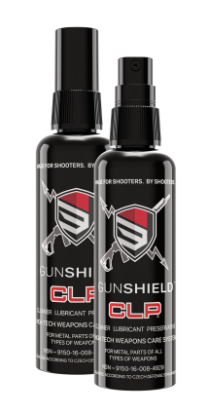 GUNSHIELD™ CLP®
100 ml SPRAYER
100 ml packaging in plastic vessel with mechanical sprayer.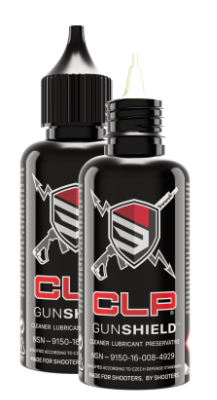 GUNSHIELD™ CLP®
50 ml DROPPER
Small 50 ml package in plastic vessel with precise dropper for easy application on small surfaces and parts.